<
>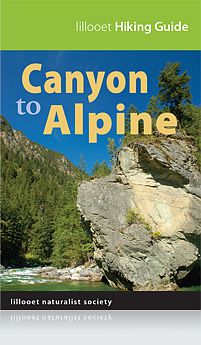 Hiking Guide
Canyon to Alpine
Created by the Lillooet Naturalist Society, this hiking guide features Ian's images.
Magazine
BC Nature
Ian's photograph of a Long-billed Curlew was featured on the cover of BC Nature Magazine.
Tucked into the Rain shadow of the Coastal Mountains, Lillooet has dry hot summers and cold winters with little snow. Despite its proximity to the Lower Mainland, Lillooet is still very rural. Situated on the banks of the Fraser River and surrounded by spectacular mountains, Lillooet is the ideal place to live for anyone who appreciates wild BC at their backdoor, but still wants easy access to the lower mainland or the interior of BC.
Ian Routley lives and works as a rural doctor in the southern interior town of Lillooet, BC. He grew up on Vancouver Island where he developed a lifelong interest in nature. His photography focuses on nature in BC and Latin America. His photos celebrate the natural world and draw our attention to these vital and increasingly rare creatures and places on our planet. Ian's photos are featured in the Lillooet Naturalist Society's Canyon to Alpine Hiking guide. His photos have also been used by BC Nature, the BC Ministry of the Environment, the BC Field Ornithologists , the Vancouver Island Marmot society and Erickson Air-crane (USA). The photos on this site are just a few from his large collection of both film and digital photos. Ian uses Nikon photographic equipment,Gitzo tripods and Really Right Stuff Ballheads.